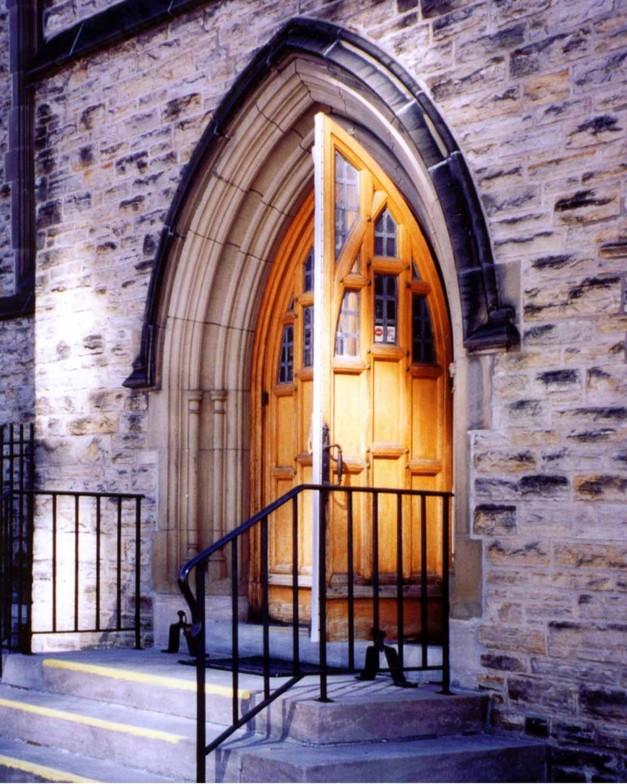 Recently, I had my office doors open to meet an engaged young couple, whose wedding ceremony I hope to officiate next summer. As part of my regular routine of getting acquainted, one question I ask is how they first came to choose our church for their big day. The response of the bride-to-be caught me off guard: "When I first saw the sanctuary, I immediately knew this was where I wanted us to get married." While it's true Knox Presbyterian in Ottawa is a great wedding church with a long centre aisle, gothic pillars, and elegant chancel area for bridal party staging, there's something even more heartening in this hope-filled couple's venue of choice.
Their first visit was during Doors Open Ottawa, an annual exhibition of numerous buildings throughout the city with cultural, religious, civil, and historical significance. Raised in families with Anglican and Presbyterian faith traditions, this couple was looking not only for a space to have their wedding ceremony, but also a future spiritual home. And they were led to consider Knox because of our participation in an event designed for organizations to show-case their facilities with welcome arms, gracious hospitality, and…doors open. Participation by Knox in Ottawa's annual festival of hospitality offered this couple the very threshold they were seeking for their wedding, and God only knows, also their spiritual journey together as husband and wife.
All this causes me to consider Doors Open, the event, as a lifestyle metaphor. The everyday practice of offering a welcome for others to enter into our personal and communal spaces, can often lead to new opportunities of hope and hospitality. And yes, I know not everyone has as much hope for life as the engaged couple I recently met, and I realize we live in a world where few doors can be flung wide open around the clock. Many homes today have not only keys and deadbolts, but also alarm systems. National borders require, more than ever, thorough security checks. Knox Church, like many downtown sanctuaries has wrought-iron bars on ground floor windows and doors. All these and other security measures are as common sense as having anti-virus software on our PCs to protect them from malware. Our world is filled with malaise and molested with sin.
In the middle of this season filled with potential threats to safety from all kinds of threats and insecurities, next week the Christian faith enters a new liturgical calendar with Advent: a time of hoping and longing for God to breach the divide between heavenly light and earth's deep darkness. While it can be tempting for humanity to baton down the hatches and cloister ourselves from the dangers of this world, Advent offers a counter-intuitive divine lesson: Where true justice and righteousness afford God every reason to shut heaven's door and throw away the keys of the Kingdom, God instead enters our tiny planet, breaking open the divide between earth's deep despair and heaven's highest hospitality. The evocative Biblical paraphrase by Eugene Peterson suggests, "…the Word became flesh and blood, and moved into the neighbourhood." (John 1:14, The Message). As we know, the life of Jesus was—from beginning to end–far from safe. And yet, his 30 plus years on this terrestrial ball demonstrates the most gracious godly goodness this grief-stricken world yearns. To quote the great story-teller C.S. Lewis, the 'deep magic' of heaven is the key to freeing us from being locked into a world where it's 'always winter but never Christmas.'
In a short series of weekly Advent blogs between now and Christmas, I invite you to enter some of the places I roam in my new home-town of Ottawa and consider how a Doors Open way of life can offer entry into hospitable spaces in otherwise dark, dreary, or divisive corners of life.