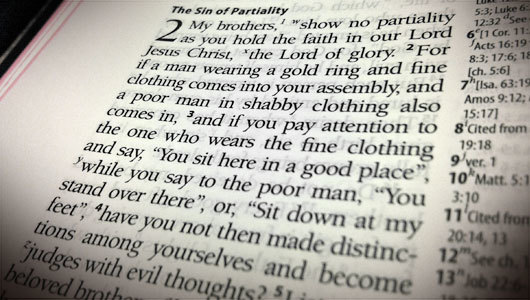 The second chapter of the New Testament letter of James, most well-known for the theme of 'faith without works is dead" (verses 14, 17, 20) begins with an interesting scenario:
"if a person with gold rings and in fine clothes comes into your assembly, and if a poor person in dirty clothes also comes in, and if you take notice of the one wearing the fine clothes and say, "Have a seat here, please," while to the one who is poor you say, "Stand there," or, "Sit at my feet," have you not made distinctions among yourselves, and become judges with evil thoughts? (James 2:2-4).
The scene reminds me of the following story I told during the first sermon I preached at Knox in the Spring of 2015 before accepting the congregation's call to be it's Minister:
Bill walked into a church on Sunday morning. It was one of those churches where people tend to dress quite formally. Bill arrived into the already filled sanctuary with faded jeans and torn shirt, meandering from bench to bench looking for a spot to sit. With no success finding a place to sit, Bill finally plopped himself on the carpet in front of the first bench, immediately in front of the Minister, who was halfway through the sermon. An elderly man in a fine black suit named Ted began to walk slowly down the aisle toward Bill. On approaching Bill, Ted taps him on the shoulder and says, "Excuse me, sir. Can I help you? Are you looking for someone here?" To which Bill replied, "No, I'm just looking for a place to sit." And then Ted did something nobody present that day has ever forgotten: He bent down, and sat beside Bill for the rest of the worship service.
I'm told there's a number of variations to how this story's been told over the years. I've also heard about a Minister who, instead of telling the story, acted it out the following way for a city-centre church: She dressed up as a homeless person on the Sunday where she was invited to 'preach for a call', sitting on the church building's front steps. Most people arriving for worship that day, walked by without even noticing her; some smiled at her; one person gave her money; and a few asked her to please get of their way. All were surprised when this same woman followed the Choir down the aisle for the Processional Hymn and began to lead worship.
At our Wednesday morning Bible Study this week, I shared the above story and asked, "I wonder what might have happened if, instead of telling the story about Bill and Ted that first Sunday, I also acted out the story like this other Minister?" I was quickly told, half jokingly, "It's a good thing you didn't, or you might not be here today!" I guess we'll never know. Though we do know the Bible teaches in more than just the letter of James to 'welcome the stranger' (Deuteronomy 10:19); 'feed the hungry' (Matthew 25:35); 'love our neighbour in need' (Luke 10:36) and in many other ways to make our faith real through good deeds of gracious kindness to others. And of course, these are stories meant to be acted out, not only on the front steps of church Sunday mornings, or told from a pulpit during worship. They're ways we make our faith real everywhere we find people on our path in need.