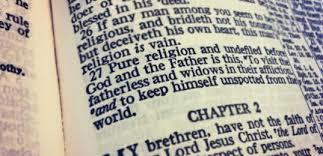 "I didn't go to religion to make me happy. I always knew a bottle of Port would do that. If you want a religion to make you feel really comfortable, I certainly don't recommend Christianity." So writes C. S. Lewis, the children's author of fantasy stories in a book of essays, God in the Dock.
Add to this, the even more no-nonsense view of following Christ by the New Testament author James in chapter 1, verse 2: "Count it all joy when you face trials of all kinds." So the Christian faith's not for creating our happiness? And worse yet, we're called to expressions of joy when life sucks? When was the last time you heard this in church? Have to admit, beginning a series of sermons on the 5 chapters of James last week with the message of "Faith that Works through Trials" probably wasn't a homerun for my first at-bat after summer vacation. Presbyterian sanctuaries are often filled with early September 'Rally Sundays' and churches from many other denominations often begin with Ministry Fairs and Commissioning Sundays to propel us into what everyone hopes can be 'our best church year ever!' I wondered myself, wouldn't that have been a more positive, energizing start to the new season?
And yet, on reflection, maybe it wasn't so far off the mark to begin with James' challenge about trials. We might have it okay in Ottawa, but just consider what comes to mind when you read these conglomeration of names: Harvey, Houston, Irma, Barbuda, Antigua, Benue, Myanmar, Rohingya, and we can all add names—both real and attributed--to this list which adds ups to what Michael Enright named 'the summer of our discontent' last week on his CBC Radio 1, Sunday Edition. Enright ends his opening monologue by quoting Winston Churchill, "...if you're going through Hell, keep going," but not before contextualizing Churchill's words with the concept of hope, and the expectation that all is not lost when we can work together in small ways towards a better tomorrow.
Though I'm not certain of Michael Enright's religious leanings, I appreciate his no-nonsense his honesty intertwined with hope. Not a far stretch, it seems to me, from the words of James in the first chapter of his New Testament letter, mingling trials with joy. Eugene Petersen, in his paraphrase of the Bible called The Message, has James saying, "Consider it a sheer gift, friends, when tests and challenges come at you from all sides." And his verse 3 continues, "You know that under pressure, your faith-life is forced into the open and shows its true colors." Seems to me that's a helpful rendering of James' view of religion, especially when he ends this chapter with a definition of 'true religion' (with the clear assumption that not all religious fervor is genuine), telling us this includes caring for orphans and widows in distress (James 1:27).
Religion is often defined variously as 'belief in or worship of a superhuman or divine power' but here James seems to want the term defined more for it's sociological dimension. The Greek word in the original letter is θρησκεια (threskeia) which refers specifically to ritual acts of worship, but already by the fourth century, the approved Latin version of the Bible known as The Vulgate uses the word 'religio' which literally means 'to connect back together' ('re' means again; 'ligio' means to connect or join). The word might bring to mind the importance of ligaments in our knees and other body joints, what happens when they are strained or torn, and the sheer joy of having them repaired.
Even having once required knee ligament surgery myself, I still can't fully comprehend James' intent behind the words to 'count it all joy' when facing trials, though maybe we can begin to understand the challenge when we see the word 'religio' with this background. In the ancient world of James and the twelve dispersed tribes of Israel, many of the people in need of reconnection were orphans and widows. Maybe the challenge of James for us today is to explore the many opportunities of reconnection all around us, not only in faraway places like the Caribbean or in Myanmar, but also right next door, even in our own homes and bodies.
Religion isn't easy. Nobody, especially the one upon whom the Christian religion is founded, ever said the Christian faith was simple. James, though, seems to suggest there's ultimately joy in it: this delicate surgery of reconnecting separated ligaments. The best way to get good at this kind of true religion is through practice. Where might God want you to help reconnect people, even right here in the Centretown of Ottawa or your own neighbourhood, to show the true colors of your faith?