Wednesday, January 29, 2020
11:00 am - 12:00 pm
Knox
This event has already occurred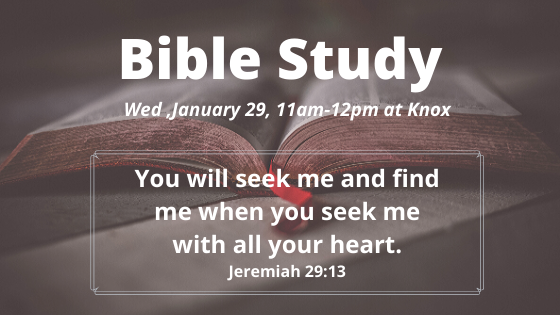 Join us Wednesday at 11 AM in the choir room for our weekly Bible Study.
Our present study is The Gospel According to Mark including a reading, review, and reflection of a part of the stories recorded by the evangelist Mark each week, spending time as well to apply the teachings toward our lives, plus praying together and for one another.
All welcome, whatever level of Bible knowledge, from minimal to well-versed. The conversational, yet indepth study, will leave you with something every week to challenge you in your faith and help you to grow spiritually.
And the beauty is this: you can join us any week without feeling 'behind'. Every Wednesday is a new study!
Enter through the Lisgar Street door marked "Church Offices Entrance".