Friday, March 13, 2020
7:30 - 8:30 pm
Knox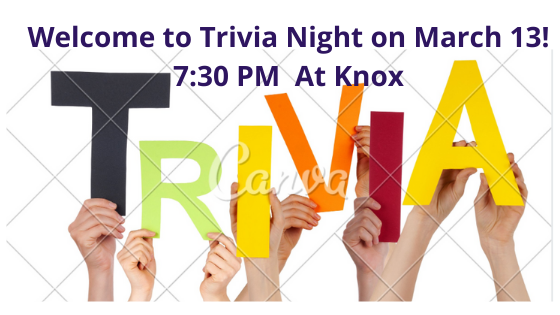 Can you name the last three countries in the world still using Fahrenheit? Which Canadian City has a coat of arms representing five cultures and the motto "Salvation through harmony"?
If you know the answers to these questions you are a trivia whizz! If you don't ,you're like the rest of us!Beat the winter blues and come join the Knox family on March 13 at 7:30 pm in Geneva Hall for our first ever TRIVIA NIGHT. Players will make up teams of six, all participating in good-natured competition to see which team can answer the most trivia questions in a variety of categories. Bring your friends or come on your own.Prizes for the winning teams . snack and cold drinks will be provided.
Tickets will be on sale for $5 starting Sunday February 16.
Please see a member of Knox at coffee hour in Geneva Hall to register and purchase your tickets.