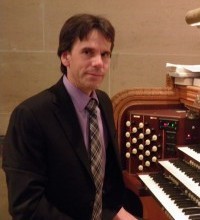 Simon Pinsonneault is an accomplished organist and choir director.
He studied at the Université de Montréal with teachers Denis Bedard, Luc Beauséjour, and Tom Annand as well as vocal technique and choir direction with Gabrielle Térrien, Jennifer Moir and Nancy Kidd.
In 2003, he obtained a diploma in organ playing from the Royal Conservatory of Music in Toronto.
Simon was Titular Organist and Choirmaster at Très-Saint-Rédempteur Church from 1991 to 1999, then Musical Director and Carillonist at Saint-Édouard Church from 1999 to 2008 in Montreal.
In August 2008, he joined St. Giles Presbyterian Church in Ottawa as Minister of Music and held this position until June 2012.